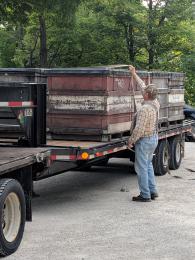 With harvest in full swing now, we're starting to see how the quality is playing out. A big concern earlier this week was how much rain we would get from Hurricane Florence. On Monday, a big band of rain from the storm headed our way, drenching everything in its path. It got to the southern edge of the Lake Erie Region, dropped a few sprinkles on our heads, and then disappeared. We totally escaped this one!
Lake Erie Pinot Noir grapes being harvestedThis was good for our Pinot Noir and Vignoles, both of which were nearing the desired picking time, and were on the edge for having severe Botrytis infections. Had the rain from Florence hit us, it may have been enough for the mold to take over, requiring that we either pick earlier than we would have liked to minimize the damage, or if we couldn't get the fruit off in time, that sour rot (a secondary bacterial/mold infection resulting from the initial damage to the berries by the Botrytis) would set in. This is the knife-edge that we tread—wait for ripeness or pick for safety.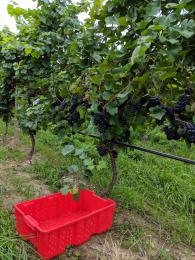 This year we were lucky. The pinot noir was harvested clean and ripe. It is from a new vineyard for us tended by Courtney Semelka, who also provides us with Seyval Blanc. In addition to the Pinot Noir from this vineyard, we'll be taking in Teroldego, a northern Italian red wine variety suited to cool-climate viticulture, and Zweigelt, a red German grape developed in the 1920's, also a champion in cool-climate regions like ours. Courtney is a stellar grower, and the vineyard is picture perfect as are the grapes he harvests from it.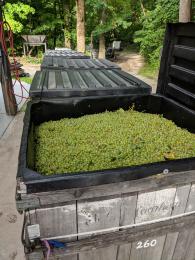 2018 Cayuga Grapes from Lake Erie RegionWe've finished processing the early native varieties, Niagara and Fredonia, the hybrids Cayuga and Seyval Blanc, and the red vinifera Dornfelder. Quality of the fruit is top-notch, with lower than normal acid levels, and nice sugar. More importantly, the conditions have been favorable for developing flavor, the one thing that the winemaker cannot successfully add. Valvin Muscat, Steuben and Chardonnay are in the wings, and will be harvested early next week.
Of course, with this much activity on the press pad, there is an equal amount of activity in the winery. The cellar crew are busy getting the wines fermented properly and making sure that we have tank space for the new juices and wines ready. The trucks are on the road making deliveries of our juices to other wineries, and winemakers are making the trek to North East to pick up their grapes, juices, and supplies. It's a busy time, but one of the most exciting and rewarding times of the year as well. The entire year's winemaking begins during this short period of harvest
Bob Green
PIWC Executive Winemaker